In May, we announced that the Arizona Enneagram Association is in the process of gifting its core teaching curriculum to the Narrative Enneagram. The two educational nonprofits continue to collaborate to ensure a thoughtful blending of communities and educational wisdom by year end. You can read the full announcement here. 
In that blog post, we asked for your questions and feedback to ensure we communicate as we lead up to the membership transition. Please review the questions and answers below. If you have any additional questions or thoughts, you may submit feedback to the joint committee here.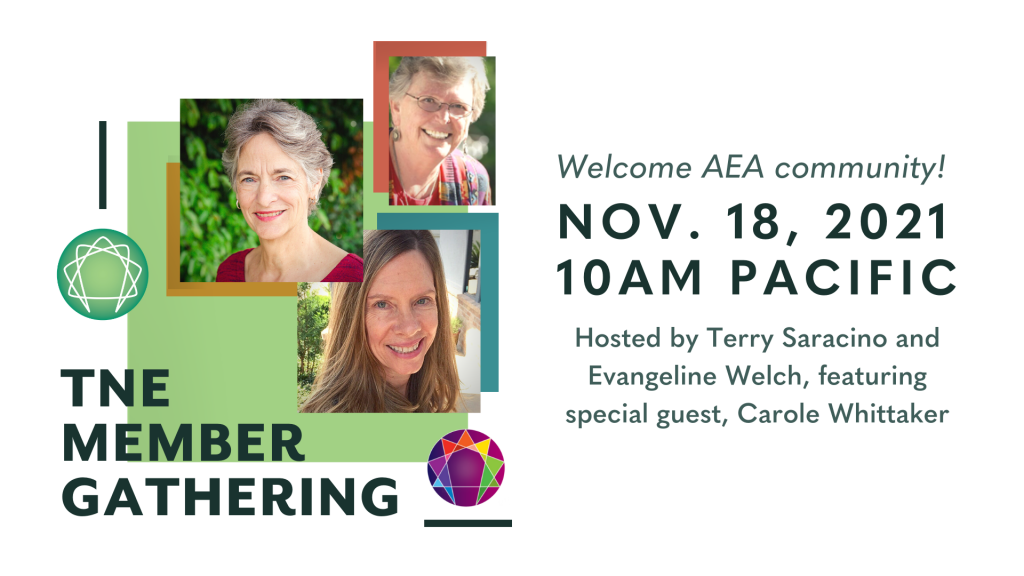 We are also excited to extend the invitation to the AEA community for TNE's Member Gathering on November 18 at 10-11 am Pacific. Featuring our own Carole Whittaker with hosts Terry Saracino and Evangeline Welch, the two communities look forward to coming together during the season of gratitude. This event is free for the AEA community, regardless of current membership status. AEA subscribers will receive an email with the link to register in mid-October.
Thank you for your continued support of AEA's mission "to provide opportunities to grow in self-awareness, compassionate understanding, and better relationships" as it lives on within its new home at TNE. 
FAQ
What is happening to my AEA membership? When will my membership transfer to TNE?
As AEA operations come to a close, your membership will go on a "Winter Pause" at the end of 2021 through approximately February 2022.  This pause will allow TNE to gracefully transition the AEA members over to their TNE membership equivalent. During this window, TNE will launch its new website and technology platform, update benefits for general members and launch a new Professional membership level. 
Your membership renewal date will be extended accordingly to compensate for the Winter Pause. Thank you for your patience while the two organizations quietly undergo the transformative changes necessary to ensure you receive comparable valuable benefits and experience a smooth onboarding and welcome process. 
What is TNE's current membership pricing and structure?
TNE currently has one general membership level with the benefits listed here. The general membership is open to all for $60 annually. Certified Teachers and Practitioners have the option to add a public directory listing for an added $75 annual fee. 
Throughout 2021, TNE has evaluated and solicited feedback from current members, the TNE community and AEA in efforts to improve and add value to its membership program. After the Winter Pause, TNE will announce its updated general membership benefits and a new professional membership level tier. The pricing of the two levels will reflect the level of benefits offered. 
AEA Members will receive a comparable level of benefits and/or prorated extended membership on the standard level depending on cost paid vs. cost of new membership level. 
How will I know when my membership resumes? What are my new benefits?
TNE will communicate details of the new membership levels and benefits in early 2022, including the date your membership will resume and how to access your new benefits. AEA Members will automatically be opted in to receive TNE's emails at the end of the year and into the level that most closely compares to their current level with AEA. To ensure updates from TNE reach your inbox, please add info@narrativeenneagram.org to your address book and safe senders list with your email provider.  
Who can I contact with questions in 2022? 
If you have any questions prior to the end of the year, you are welcome to submit them here. If you have any questions during the Winter Pause, please email info@narrativeenneagram.org.
---