Your gift matters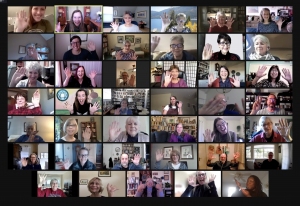 In 2021, your support produced a continuing surge of interest in the Narrative Enneagram. To read the latest message from our executive director, click here.
Having made excellent progress on our strategic initiatives this year, we invite you to ensure the momentum continues by investing in these key Initiatives for 2022 that will better serve our Learning Communities and Certified Teachers and Practitioners, and engage a much larger and diverse audience in our programs:
Launch a critical upgrade of our website and technology platforms to create a much better student experience. We've raised 92% of the funds for this project and are just $18K short of our goal to launch by February 2022.
Expand program offerings beyond certification tracks, including professional development post certification and numerous applications of the Enneagram in everyday life.
Increase capacity to provide scholarships to an increasingly diverse community of students.
Your investment will create a positive and lasting impact to further our shared goal of transforming lives and creating a more compassionate world. Thank you for your support! 
DONATE USING PAYPAL OR A CREDIT CARD
---
OTHER WAYS TO CONTRIBUTE
There are a variety of ways to support us. You may:
Click on a link above or scroll down to see how.
MAIL A CHECK
Download a donor form and mail with your check (payable to TNE) to PO Box 4114, Boulder, CO 80306-4114.
---
DONATE STOCK
Donate Stock to The Narrative Enneagram
---
PLANNED GIVING AND EMPLOYER MATCHING PROGRAMS
For those interested in taking advantage of available tax benefits for charitable contributions through planned giving or increasing the value of your donations through an employer match, please email Tom Baldwin, an estate planning and tax attorney, or call him at 513-403-3426. He is happy to assist you with your questions at no charge.
---
SHOP AT SMILE.AMAZON.COM
Amazon will donate 0.5% of everything you spend. AmazonSmile is a simple and automatic way for you to support The Narrative Enneagram every time you shop, at no cost to you. To get started, simply go to smile.amazon.com/ch/27-4376250 from the web browser on your computer or mobile device and confirm The Narrative Enneagram to receive donations from eligible purchases. From then on, log in at smile.amazon.com and begin shopping (you might want to add a bookmark to make returning easier). AmazonSmile will remember your selection, and every eligible purchase you make will result in a donation to TNE. Just remember … for your Amazon orders to result in donations, you'll need to be logged into smile.amazon.com (not amazon.com or the mobile app) each time you return to make a purchase.
---
DONATE AIRLINE MILES
Airlines allow you to transfer frequent flyer miles to a charitable organization. Please contact us if you want to donate miles.
---
 QUESTIONS?
Please contact TNE Executive Director Ed Self if you have any questions or need more information. Your generous support is greatly appreciated.
TNE is an educational nonprofit and is tax exempt under Section 501(c)3 of the Internal Revenue Code. The entirety of your contribution may be tax-deductible. Check with your tax advisor.