The article, Advancing Ego Development in Adulthood through Study of the Enneagram System of Personality, was co-authored by David Daniels, MD, Terry Saracino, MA, MBA, Meghan Fraley, PhD, Jennifer Christian, PsyD and Seth Pardo, PhD. The bottom line from the study's abstract: "The findings suggest that Enneagram Intensive trainings may be beneficial for promoting psychological growth and ego development."
So you might ask – this is news? For those of us who work with this powerful system, it's a given. But in order to help the Enneagram be more accepted in the world of mainstream psychology, we need data. As far as we know, this is the first study to examine the efficacy of the Enneagram to promote growth. It's a step in the right direction – and we need more.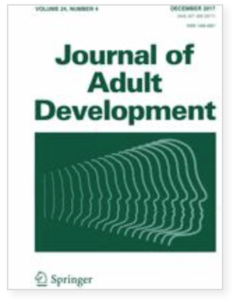 The impetus for this project began in 2004 at an Enneagram Intensive training in Asheville, NC, when a student spoke to David and me and essentially said, "I'm watching people change right in front of my eyes. This work helps people move up levels of ego development. We need a study." So off we went with David's enthusiasm and can-do attitude, our student's knowledge of a model we could use, and my steadfast commitment to and passion for the Enneagram.  
We had no idea what we were getting into in terms of what is required to produce a research paper for a scientific, peer-reviewed journal. Over the years, we found excellent resources, notably the other authors of the manuscript, each of whom added significantly to the end result. We encountered dead-ends, challenges and delays. Even in the final push, I said to Seth, our statistician, "Please just tell me if we have anything worth publishing. If not, I'm ready to call it quits!" With much experience in the world of publishing, he kindly said to me that what I was feeling is typical of all who attempt this kind of work. He advised me to hang in and be patient.
I couldn't be happier that we all persevered. My only regret is that David is not here to be part of this celebration. The paper was submitted to the Journal a few weeks before he died in May 2017, so I'm grateful that he knew we had gotten to that point. 
This paper is available for free online. The link is below. Please feel free to share it widely and extensively. It's another way we can fulfill David's mission of bringing the Enneagram to the world. And maybe this article helped that world become a little bit larger!
Read the article at http://link.springer.com/article/10.1007/s10804-018-9289-x >
Note: The Journal of Adult Development is an interdisciplinary journal covering development in early adulthood, midlife, and later adulthood. The Journal supports innovative theoretical and empirical articles that help direct the future of our field. Critical issues include the importance of life-long education, work and family changes, and physical and mental health influencing adult development. In addition, the impact of personality, emotions, cognition, and biomarkers are areas of interest. The Journal emphasizes the importance of inter-individual differences and contextual issues influencing adult development. Interventions that promote optimal development throughout the adult life span are also welcome.
The Journal of Adult Development is published in collaboration with the Society for Research in Adult Development.
---