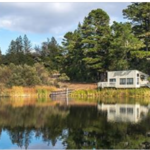 David's family has set up a Memorial Fund according to his wishes that donations in his memory go to support the David C. Daniels Nature Center in the foothills of Palo Alto, CA (https://openspace.org/daniels) where he raised his family. David C. Daniels was his beloved son who lost his life in 1990.
Condolence cards, memories and notes can be sent to us by June 16 at: ESNT, 1942 Broadway, Suite 218, Boulder, CO 80302. We will deliver them to his family at the Memorial Service.
In the near future, ESNT will establish the David N. Daniels Legacy Fund to honor David and further his personal mission of bringing the Enneagram in the Narrative Tradition to the world.  Details about the fund will be forthcoming.
Online Memorial Celebration
Many of you have signed up for the free Enneagram Global Summit sponsored by the Shift Network that is airing this week. They have added a "Global Memorial and Life Celebration for David Daniels" scheduled for Thursday, June 8 at 5 pm Pacific. David's daughter Denise Daniels, Helen Palmer, Terry Saracino, Russ Hudson and Dan Siegel will participate in this session along with Jessica Dibb. While this is a free session, you must sign up for the Summit to listen. Register now >
From Helen
Co-founder Helen Palmer, who was traveling internationally when she learned of David's passing, sends the following message to our community:
"My enduring memory of David is his 30 years of determined effort to bring the concept of Enneagram-based self-awareness to his students at Stanford School of Medicine and to his own clinical practice – and at a time when academic support for such ideas was almost non-existent.

 "David initiated the professional training that we subsequently developed together, and which since 1988 has reached many thousands of students in multiple countries. It was his support and influence that led to the conference at Stanford, which was the genesis of the International Enneagram Association (IEA).

 "It was a great privilege to have him as a colleague during the evolution of Enneagram Studies in the Narrative Tradition, and I will miss him greatly."
Share Your Comments
In case you haven't seen it, you can read David's final letter to the Enneagram community, a tribute from me, and expressions of love from around the world at www.enneagramworldwide.com/loving-memory-david-daniels-md/. Please share your own stories, reflections and comments there. We also invite you to participate in the conversation on our Facebook page at www.facebook.com/EnneaWorld/.
Once again, I believe I can speak for the entire ESNT family in expressing our profound gratitude for David Daniels, MD, our co-founder and Enneagram pioneer, and for David the wise, loving and playful spirit.
Love,
Terry Saracino
Founding President and Core Faculty
Enneagram Studies in the Narrative Tradition
---