As I considered a partner in this new adventure, I immediately thought of Sandra Smith. Sandra and I had numerous parallel journeys in life. We both went to Wake Forest University and Candler School of Theology, albeit at different times; we both were spiritual directors; and we both had a deep and abiding love for the power of the Enneagram. In fact, Sandra had served as my mentor through the Narrative Enneagram Teacher Certification process in 2014 and had been a great teacher for me. I knew Sandra would bring gifts, wisdom, and passion to this project if she said "yes."
As we sipped our hot drinks on that cold winter morning in the North Carolina mountains, I shared the idea of a new Enneagram podcast with Sandra and invited her to join me. I encouraged her to take some time to consider the request as this had the potential to be a lot of work, particularly since neither of us had ever created or recorded a podcast before!
"I'm writing to you personally to thank you for your work with the Enneagram. As a lay person, I often feel like I'm categorized in a negative way by Enneagram writers. For the first time, your compassionate approach has made me feel less alone in my "type". I feel you have given me some hope that I can find some direction on how to go beyond the static motions of mere categorization." 
   –Allison, Victoria, Canada
I (Sandra) was delighted to reconnect with Chris and we talked about our work and lives for a while. Then he mentioned the podcast and asked if I would partner with him in this endeavor. He invited me to take some time to think about it. I did – two seconds and my body was full of "yes." My energy rose so quickly, I looked at Chris and said, "I think I'll tackle you!" We began this partnership with laughter, and laughter has carried us many times. (Life is a contact sport for us, Eights, right?!)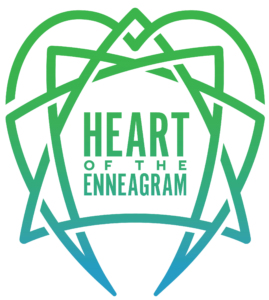 As we brainstormed about what to call our new podcast, "Heart of the Enneagram" emerged as both a name and description of this work to which we felt drawn. Both of us name our spiritual path as priority in our lives and work, and we knew we wanted this to serve as the heart of the project. We ritualized this commitment by beginning each of our planning sessions as well as our podcast recordings by lighting an oil lamp to symbolize our intention to be present to the sacred and to receive deeper wisdom. The oil lamp had been a gift to Sandra from David and Judy Daniels following one of the Enneagram intensives in Asheville, and so became even more meaningful after David's death in May 2017. We felt his presence and his wisdom permeate our work together.  
"Listening and learning about each of the types has evoked more compassion in me, and at the end of each episode, I find that I'm more grounded."  
   — Patty, Boone, NC
Growing from a desire to offer conversations engaging both personality and spirituality, we decided to record 22 episodes with half focusing on the habits and patterns of the nine styles, and the remaining episodes delving into the spiritual dimensions of the types. We hosted our first guests in Winston-Salem, NC, thanks to the generous support of Wake Forest University School of Divinity. We tapped into the intricacies of recording in New Orleans thanks to the gifts of our friend and editor Eric Murrell, and finished our episodes in a wonderful recording space in Asheville through the generosity of Lyn and Tom Berner.
Our self-preservation Four and social Eight working relationship brought both thoughtfulness and spark as well as intense engagement. We could name what we liked and didn't like as we edited, re-recorded, discerned episode length, and worked through many other decisions that brought the project to fruition.  
As one who leads with self-preservation Four, Chris insisted on resting spaces throughout the recordings ‑ a foreign concept to Sandra. These pauses served us well as they allowed time when needed for clarity to emerge. Chris engages easily with others, has a fun and contagious laugh, and is both strategic and sensitive to the "image" of Heart of the Enneagram. These attributes served to enhance the project in timing, aesthetics and marketing.
As a social Eight, Sandra moved tasks forward and sparked ideas, including the development of a companion book. With many years of Enneagram teaching experience, she offered her stashes of poetry, quotes and prayers to the project, and shared her deep knowledge of the nine styles to encourage guests to go deeper and to illuminate the material for listeners. Through her many connections, Sandra identified wonderful guests, a comfortable recording space, and an outstanding editor in Eric.
"I have been listening to the podcasts and I am blown away. They are absolutely WONDERFUL. These kinds of conversations fill such a deep need in the Enneagram community."       
   — Mirais, New Orleans, LA
Though we planned the structure of each episode and wrote the closing questions, we didn't use a script in conversations with guests. We decided to allow our interactions to flow. After our initial recordings, we found our conversational rhythm, and each of us accepted and acclimated to the other's pace of engaging.  
The episode that felt most intimate to us, even sacred, was the conversation between the two of us on spirituality (Episode #12). Before recording the episode, we spent several hours in conversation about our spiritual lives, which opened our hearts and allowed us to speak from our deep commitment to this shared work. Many listeners let us know that they felt a strong connection between us during that specific episode. TNE Board Member Gerry Fathauer, a Certified Narrative Enneagram Teacher, said:
"I've listened to podcast #12 twice today, and I so love your introduction to spirituality and the Enneagram! I especially like – and am from here on out using – your terminology for the Holy Ideas as "enlightened spiritual perspective." This is truly what they are and will be clearer for people to grasp. I so appreciate how you both speak from your hearts what is true in your spiritual paths."
We are deeply grateful for the people who showed up to engage and support us, including several Narrative Enneagram teachers who were podcast guests: John Amen (Charlotte, NC), Gerry Fathauer (Cleveland, OH), Amy Greene (Cleveland, OH) and Debbi Horton (St. Paul, MN).
Since we launched the podcast in March 2018, we have received overwhelmingly positive feedback from listeners. Each week, more than 2000 people from all over the world download episodes of the podcast. Many who have purchased the Heart of the Enneagram companion book have appreciated the poetry and quotations we used in the first podcasts as well as the prayers we wrote for the types in the spiritual dimension episodes.
Listeners in different regions of the United States have told us how they are engaging Heart of the Enneagram: A women's group is listening to each episode and using the book to deepen their group conversations; people are displaying quotes and prayers from the book on their desks; and others are listening to the episodes with their loved ones and learning ways to become more intimate and compassionate in relating to each other.
"I've listened to a number of the Heart of the Enneagram podcasts already and will be recommending them to my Enneagram interviewees and students. I love how you honor the Narrative Tradition and Helen and David's respectful approach to the spiritual journey while also adding your own unique (!) touches!"    
   — Bernie, Midland, MI
We see the book and podcast as a resource not only for people who want to learn more about the Enneagram, but also for teachers. Debbi Horton, a Certified Narrative Enneagram Teacher, recently offered a workshop in St. Paul, Minnesota, and needed another Five for her panel. She decided to play clips from our episode on Type 5 with guest Brian Hayes, and was pleased with the response.
Additionally, when we teach the Enneagram, we invite students and clients to listen to the episode about their type before engaging in the class or training. This unanticipated benefit of the podcast deepens conversations and allows participants to arrive with more questions, which enriches the experience for all involved.
"The Heart of the Enneagram Podcast helps you to take a deeper dive into understanding the different Enneagram types through first person accounts of those who share the same character structure as you or someone you know. The back and forth dialogue between Sandra, Chris and the guests makes it easy to relate to the first-person perspective of other types, as well as your own type. I hope we continue to see more of these podcasts in the future!"    
   — Tyler, Asheville, NC
A little more than a year after our initial conversation in Asheville, we gathered again at Well-Bred Bakery to reflect back on our work and to consider next steps for Heart of the Enneagram. With deep gratitude for each other, our guests and all of those who have supported and encouraged this endeavor, we enthusiastically decided to record another round of episodes. Focusing on relationships – with partners, friends, co-workers and family members – this new series will launch in fall 2018. As we learn with and from new guests, we will continue to look courageously and lovingly at what is, offering this work from the heart.
To learn more about Heart of the Enneagram, visit our website at www.heartoftheenneagram.com. You can listen to the podcast in your favorite podcast app or on our website, and the companion book, Heart of the Enneagram: A companion for deepening personal and spiritual growth, is available for purchase on Amazon.com.
---