Narrative Enneagram Practitioner Certification Track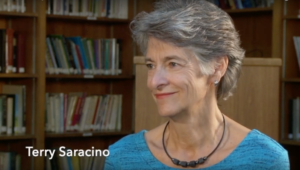 The Enneagram Professional Training Program (EPTP) was created by Helen Palmer and David Daniels, MD, in 1988 to train and certify Enneagram Teachers in the Narrative Tradition. During the past 25 years, more than 3,000 participants have attended the EPTP in 17 countries worldwide, and more than 1000 have become Certified Enneagram teachers.
We have long been asked to develop an "applied" Enneagram Narrative curriculum, and this has now become a reality. Beginning in 2014, we expanded the EPTP to include a certification track for Narrative Enneagram Practitioners. This new offering was created specifically for therapists, coaches, counselors and others who want to learn the skills to apply the Enneagram in the Narrative Tradition to their one-on-one work with clients. 
The Enneagram brings unparalleled benefit to those working with others by providing accurate descriptions of the core structures of the nine personality types, as well as type-specific understanding of the relationship between psychological issues, spiritual qualities and somatic patterns.
The track begins with the Typing Process and continues with The Enneagram for Therapists, Counselors and Coaches: Skills and Practices for Working One-on-One with Clients, and an Internship and Certification (see below). You may begin this track without a commitment to complete all segments.
Prerequisite: Narrative Enneagram Core Program
Note: For exceptions to this prerequisite, contact registrar.
The Typing Process
3 days
This experiential training teaches you how to assist others in determining their Enneagram type. The Typing Process previously included instruction on panel inquiry, but will now focus solely on the many aspects of the typing interview process.
Step-by-step you will learn how to conduct typing interviews to assist newcomers to the Enneagram in determining their type. Modules on differentiating one type from another, non-verbal aspects of type, and knowledge of your own biases in conducting interviews are also included. The training culminates in a rare hands-on opportunity to practice your skills by interviewing volunteers from the community, with feedback from instructors. 
To learn more or for registration questions, contact Registrar at 866-241-6162, ext. 1 (toll-free) or +1 303-305-4362 outside the U.S.
The Enneagram for Therapists, Counselors and Coaches:
Skills and Practices for Working One-on-One with Clients
3 days
This course was created specifically for professionals trained as therapists, coaches, counselors and spiritual directors who want to use the Enneagram more effectively in their work to create meaningful and lasting change. Participants should  have at least six months experience in an established practice as a one-to-one practitioner.
During this three-day course, you will explore your own type biases as you discover the gifts and challenges of working with each Enneagram type. You'll also: :
Learn three transformational models

Hear from each of the nine types about strategies that help them grow.

Exploring your own type biases

Work with your growth edge as a practitioner

Build skills in self-reflection, self-observation, and receptive awareness

Experience how to incorporate somatic elements into your practice

Increasing your capacity for presence and receptivity
Taught in the Narrative Tradition, this training allows participants to describe their themes, issues and processes, and learn from each other's rich experiences.  The format includes a rich variety of panels, short didactics, breakout groups, somatic exercises, practice sessions and discussion.
Our personal inner work as therapists, counselors, coaches or spiritual directors is essential. The capacity to model and embody self-awareness is one of the greatest gifts that you can offer your clients, and is the ground of our work with the Enneagram.  
Preparation: 
Completion of a training program as one-to-one practitioner

A minimum of six months experience in an established practice 

Enneagram Intensive – Parts 1 and 2

Deepening Spiritual Awareness

Instincts and Subtypes

The Typing Process
Narrative Enneagram Teachers who certified through our Enneagram Professional Training Program prior to 2014 are welcome to take this program without completing the Narrative Enneagram Core Program prerequisites.
Internship and Certification
The Internship provides a supportive structure for gaining practice as a Narrative Enneagram Practitioner who wants to use the Enneagram with individual clients.
Course Requirements
Core Program (Enneagram Intensive 2.0, Instincts and Subtypes, and Deepening Spiritual Awareness)
The Typing Process
The Enneagram for Therapists, Counselors and Coaches (ETCC) 
Internship Requirements
12 Typing Interviews, 6 recorded and reviewed by a Coach. The goal is to develop your skill and content knowledge to conduct a typing interview according to the Narrative Tradition. 
5 Supervision Group meetings led by a Core Faculty member. After you have taken the ETCC course you will be invited to join a supervision group.
Certification
Certifier conducts a final typing interview via Zoom with a TNE Core Faculty member
Written Final Review

5-10 page report integrating Enneagram learning into your professional practice.
Upon successful completion 
Certified Narrative Enneagram Practitioner
Costs
Internship and Certification: $1,850 
(includes all interviews with Coach, supervision groups and certification process)