TNE Scholarship Information
Thank you for your interest in applying for a scholarship from the Narrative Enneagram. You may apply for any of our Core Programs or Enneagram Professional Training Programs, as long as you have met the required pre-requisites. 
During this application process, you will be asked to choose your preferred dates to attend our programs. Please see the list of upcoming programs below.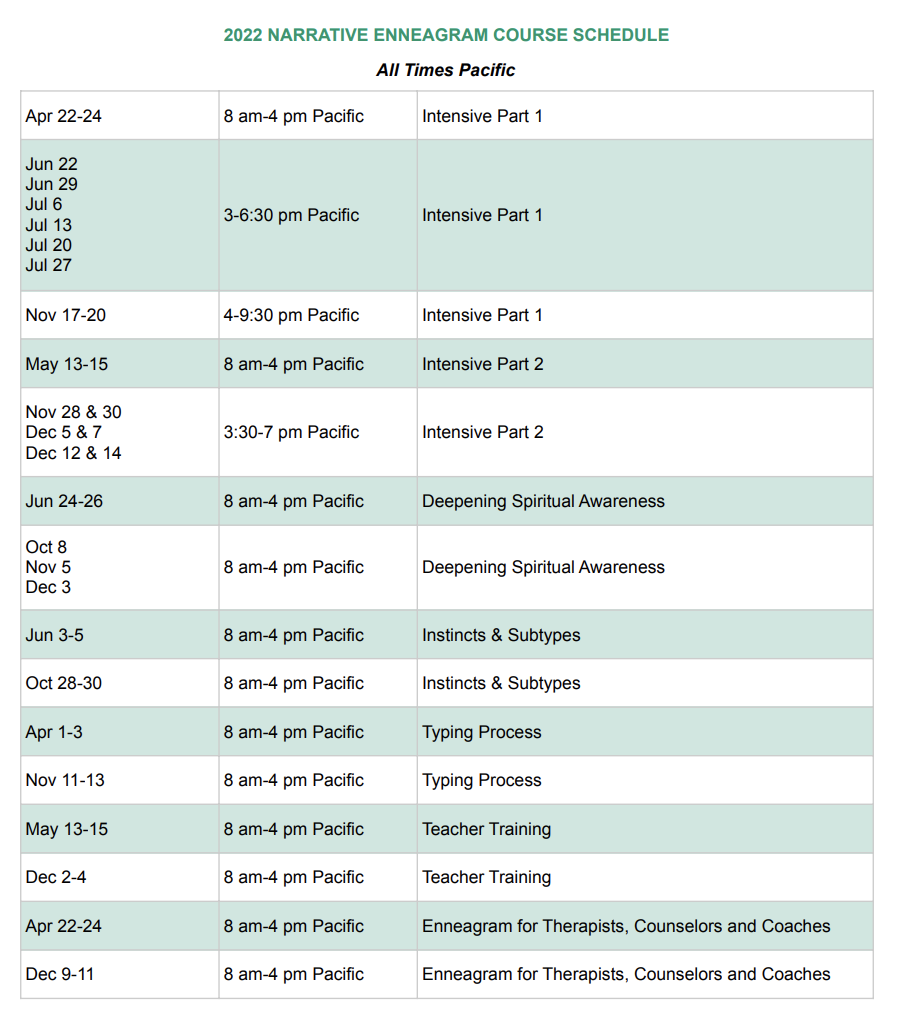 Applications accepted starting: July 1
Application deadlines: August 15
Using the criteria below, we award scholarships to cover tuition costs for Core and Professional track programs. Payment plans are available for an awarded applicant's contribution toward tuition costs. Applications are reviewed three times each year by a committee of certified enneagram teachers.  We fund no more than two trainings at a time for any one person. If your application is not successful this time, you may apply again. People who have received scholarships from us in the past are also invited to apply for additional funding. Please see the special instructions at the end of the form if you are applying again after being awarded funding.
Criteria for selection:
Financial Need: We support applicants who would not be able to attend TNE training without our financial assistance.
Intention to Teach/Practice:We support applicants who have the ability and persistence to complete the training and become competent Enneagram teachers and/or practitioners.
Diversity:  We give priority to applicants who will bring diversity to our teaching community and will reach underrepresented audiences based on age, race, nationality, gender, religion, income, etc.
Nonprofit or community service. We want to support teachers who are currently serving or who will serve nonprofit organizations or community-based groups.
Volunteer teaching. We want to support individuals who are currently donating or who will make a specific proposal to donate volunteer time and energy to a community group.
The primary goals of our scholarship program are to enable people to certify as Enneagram teachers and/or practitioners and take the Enneagram to new and diverse audiences in their home communities. Our Scholarship Committee strives to identify a capable, diverse, motivated range of students who would could not certify without financial support.
By accepting a scholarship from TNE, you are entering into a relationship with our organization. We ask recipients to share experiences of learning and teaching the Enneagram in written or video reflection, which may be printed in our TALK online magazine, posted on our website or incorporated into other marketing materials as an inspiration to others. We may also ask for additional input into or support for TNE programming in the future.
TNE Scholarship Application Process
This scholarship round is now closed.
Your application process will consist of:
The completed form below and answers to all questions
Completed recommendation form
Send this form link to the individual completing the recommendation form: https://forms.gle/KoiPk2fzXcNZQvua6
Email to registrar@narrativeenneagram.org optional attachments to support your application
The recommendation form should be completed by an Enneagram teacher or practitioner. If you could not get an Enneagram-specific recommendation, we will accept a general character reference that will help the committee make their decision. Recommendations for the Typing Process, Teacher Training, Practitioner Training classes or the Internship must come from a Narrative Enneagram Core Faculty teacher.
The scholarship committee may request a telephone interview to as part of your application process.
For returning applicants
A letter of recommendation from TNE faculty is required to be considered for additional scholarship awards. When reapplying for a scholarship, please send the recommendation form link to the TNE faculty member recommending you.
Thanks to our generous donors, TNE offers a limited number of scholarships to applicants who want to attend Narrative Enneagram Curriculum programs presented by The Narrative Enneagram (TNE).