FREE: The Narrative Enneagram Introductory Q&A Session
Our School, Programs and Teacher/Practitioner Certification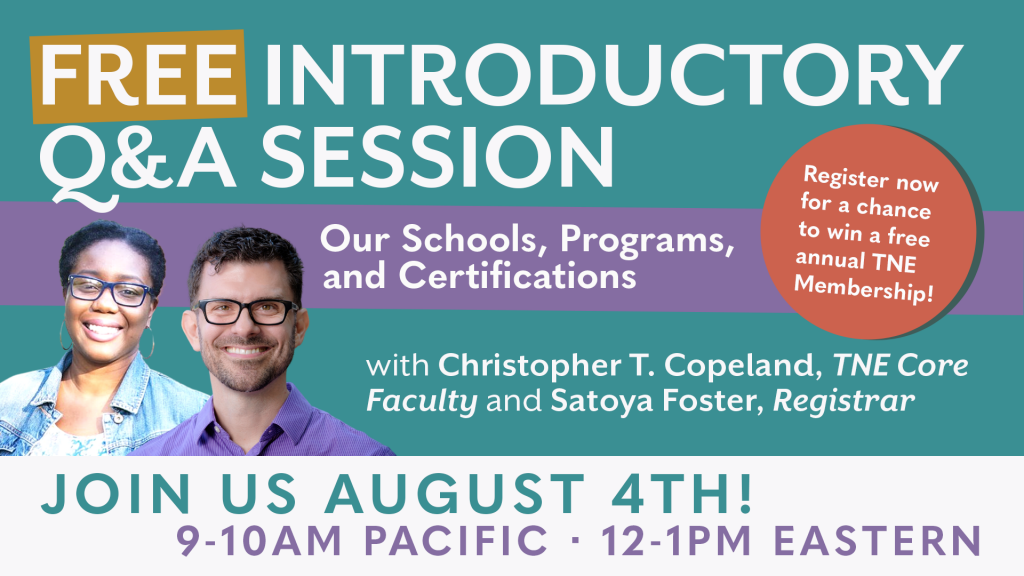 Open for registration.
Program Information
Join us for a free 1-hour online informational session for those interested in transformational personal development and pursuing Narrative Enneagram Teacher or Practitioner Certification. This interactive session will include one of our Core Faculty members, our TNE Program Coordinator & Registrar, an opportunity to hear from students and a live Q&A. Everyone in attendance will be entered into a raffle to win a free TNE Membership ($60 value). 
If you are not available to attend live and are interested in attending this session, please register below. A recording of this session will be available after the event to all registered participants.
About the Narrative Enneagram
Founded by leading Enneagram developers Helen Palmer and David Daniels, MD in 1988, we are the longest running Enneagram school worldwide and the first IEA Accredited Enneagram School. In the past 33 years, we have certified 1,200+ Enneagram professionals worldwide in the Narrative Tradition. An educational nonprofit, our curriculum integrates psychology, spirituality and somatics for lasting, transformational growth. 
The panel method in the Narrative Tradition is a profound educational experience that brings the types to life in all three centers of intelligence (the mind, heart and body). During type panels, participants share their life stories and experiences while the audience participants develop increased receptivity and compassion. 
We currently offer trainings online and will continue onsite trainings in 2022. We also have a global membership community of 600+ members.
Together, we are transforming lives and creating a more compassionate world.
How to Register
Register via Zoom by selecting the link below:
After you register, you will see a link to attend the Zoom meeting. You will also receive a confirmation email with access to the Zoom meeting room.
Schedule & Location
August 4, 2021 from 9–10 am US Pacific
Live on Zoom
Check your local time > 
Contact: To learn more, please email the Registrar or call 866-241-6162, ext. 1 (toll-free) or +1 303-305-4362 (from outside the U.S.)