ONLINE: The Holistic Enneagram Series
Four Tuesdays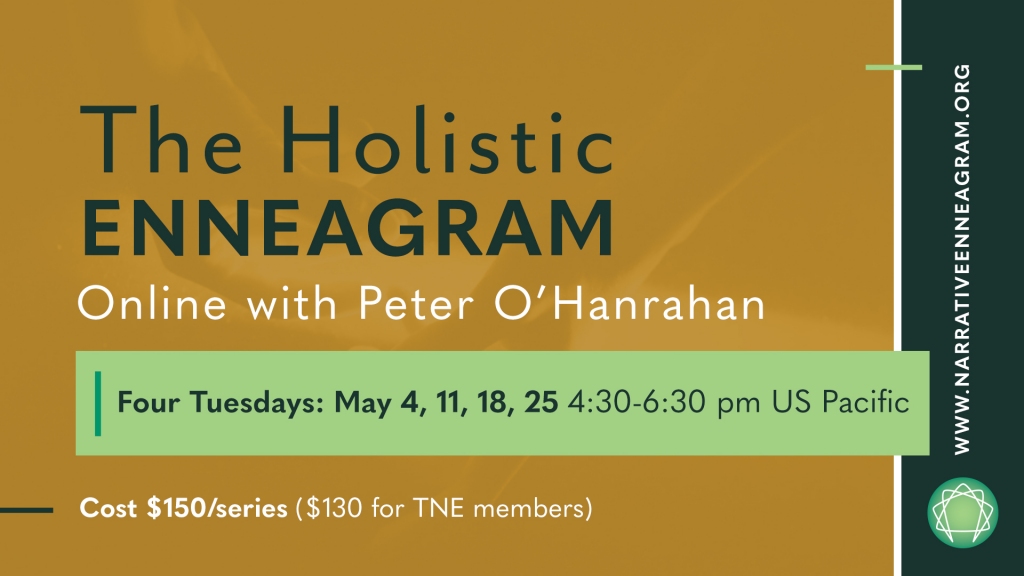 Registration is now open.
Four Tuesdays: May 4, 11, 18, 25
4:30-6:30 pm US Pacific, 7:30-9:30 pm US Eastern
Four presentations on key concepts and applications of the Enneagram, organized by the three-center model of head, heart and body. Learn how to use this model for your inner work and your relationships through self awareness and practice. 
Topics will include:
Nine character structures – based in three centers: head, heart, body
Habits of mind – how they serve us, and how we get stuck
A new language for the emotional habits and how to work with your heart center
Neurobiology and the somatic patterns and practices for each type
Archetype, personality type, instinctual subtype
Love and relationship expressed through each of the centers
The defense systems and the lead centers – idealization, avoidance, defense mechanism 
Cost: $150/series 
Discounted price for current TNE members: $130/series
If you aren't a current member and want to take advantage of the discounted price, please join TNE now for a $60 annual fee. 
Recordings available if you miss a class. 
Contact: To learn more, email the Registrar or call 866-241-6162, ext. 1 (toll-free) or +1 303-305-4362 (from outside the U.S.)
Event Registration