Enneagram Narrative Learning Community, Dayton, OH
Ongoing program for experienced students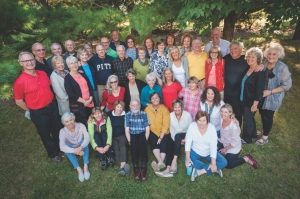 "How do you relax your type structure at the point of suffering instead of going on automatic? We have brought spiritual method to this human dilemma." – Helen Palmer  
Engaging the Relational Field: Loving Kindness to Me. Loving Kindness to You.
Each time we gather at Bergamo, the depth of presence in our field grows. We have cultivated the fundamental practice for extended presence, which allows us to relax type perceptions. Extended presence presents the Inner Witness with an empty field of awareness that makes it possible to receive impressions from more subtle "organs of perception."  Subtle perceptions of the heart are a natural extension of freed up life force.  This gathering is focused on the practice of Loving Kindness, which attunes us to emotional realities. We will explore the qualities of Loving Kindness in our field as well as our individual barriers to being kind to ourselves and to others.
Schedule
Pre-day, March 16: 1 pm to 8 pm on Friday
Learning Community, March 17-20: 10 am Saturday to noon on Tuesday (no lunch Tuesday)
Registration
We have space on site available for residents plus commuters for a total of 46 participants, and registrations will be taken on a first come- first served basis. You will receive a space in the Learning Community when we receive your payment and registration. Please register online using the form below. 
If you prefer not to register online, please download a registration form and mail or email it with your payment to ESNT, PO Box 411, Morrison, CO 80465 or to registrar@enneagramworldwide.com. You also can send a secure fax to 303-697-1198. You may pay by check (payable to ESNT) or credit card. If you have  questions, call Barb toll-free at 866-241-6162 ext 1 or email her at registrar@enneagramworldwide.com. Please reply by December 15, 2017, for priority registration; after that we will open up the Learning Community to others. If you do not receive a confirmation email by December 15, we did not receive your registration, and you need to contact us.
Lodging
If you are attending the Pre-day on March 16, please check in with Carol Jackson in the Bordeaux room before 12:30 pm on Friday. For the Learning Community, arrive for check-in with Carol in the Bordeaux room between 9 am and 10 am on Saturday, March 17. There are rooms available for those who wish to stay at Bergamo on March  16 and 17 (please note that no dinner will be available at Bergamo the night of March 16). These rooms will be filled on a first-come, first-served basis. Rooms cannot be guaranteed ready for check-in until 5 pm. Bordeaux also will be our meeting room. Check out time is 10 am Tuesday, March 20. We will make your room arrangements for you. All rooms have private baths and alarm clocks, but not phones.   
If we are out of rooms on site when you register, you may stay at the Red Roof Inn/Dayton East Fairborn hotel for a rate of 99.99 or less, dependent on availability and when you register. This is their regular rate; it is not a group rate. Their phone is 937-426-6116, and you will need to call them to reserve a room. The hotel is about a four-mile drive to Bergamo. There are also other hotels nearby close to Wright State University; you may search Wright State hotels online. 
Location
Bergamo Center is located on the southeast side of Dayton, Ohio. The Center is located on 150 acres of rolling woods with walking trails and a nature preserve. Mid-September weather in Dayton is unpredictable with temperatures ranging between 60 and 70 degrees in daytime and lower at night. Dressing casually in layers is suggested. Check the Dayton weather before you leave home.
Air and Ground Transportation
The Dayton airport is located on the northwest side of Dayton and is served by major airlines including American, Continental, Delta, Northwest and U.S. Air. The airport website is www.daytonairport.com  Ground transportation is available from Charter Vans by calling 1-800-874-0934 or 937-898-4043 or by visiting Charter Vans at www.chartervans.com. A one-way trip is $46 for one person, $23 per person for two people travelling together, and $16 per person for three or more people travelling together. (Tax is also added to the rates quoted).
Charter Vans does not operate after 12 midnight Sunday through Thursday and after 6 pm on Friday and noon on Saturday. Taxi Starter service is available between 10 pm and midnight (or 30 minutes past the arrival time of the last flight, whichever is later) 365 days a year. The Taxi Starter is located in a booth directly in front of the terminal and can be reached at 937-890-3217. Upon your request, the Taxi Starter will cue a taxi to take you to your destination. If you live in the Dayton/ Cincinnati area, you may obtain driving directions from the Bergamo Center web site at www.bergamocenter.org  and click on Directions.
Fees
$800 total for residents/ $635 for commuters. All fees are due and payable no later than March 1, 2018. We will not be accepting payments at the site. Please see fees below for the Pre-day.
CEUs
We will grant 24 CEU hours for psychologists through OPA-CME #311463433 and for social workers through CSWMFT Board #RCS051402 through The Enneagram Center of the Ohio Valley (ECOV). Certificates will be available at the end of the Invitational. The cost of the CEUs is $30. Make check payable to ECOV. There are no CEUs available for the Preday.
Contact
For more information, please email Barb Allgaier or call her at 866-241-6162, ext. 1 (toll-free) or 303-697-9456 outside the U.S.
Event Registration